Your service here was amazing. You had an amazingly good attitude. Thank you for helping me find my car Fran!
Talaya
Great Place. Very Happy!!! BOBBY G is AWESOME!!
Maurice & Jennifer
We had a "GREAT EXPERIENCE" at Richardson Auto Sales. Very quick, informative staff.
BOBBY G was AWESOME!!!!!!!
Erin and Joe
Very excited and thanks for the awesome service!!
Josh
Wabash, IN
Thanks Fran - great service! I'm going to really enjoy my new vehicle!
India
Awesome Job! Great dealer! I will return for sure, to deal with this dealer again.
Randy
Coldwater, MI
Thank you Fran and Rico for all you did to make me feel comfortable. I appreciate the service you gave me. I LOVE my new vehicle!!
Nicole
Thank you Rico!... You guys are Great..
Thanks John .....
Deena
The service was excellent and the staff was tremondous. Paperwork was done in no time. Drove off with a nice car and left mine there
Thanks everyone
Patrick
Second purchse for Chris.
"You guys had my dream car"
Awesome..... thanks Chris
Love my 'new to me' ride! Thanks to Fran and God I can smile again! Love Richardson Sales!!
Russell
Aurora, IL
Thanks for the great deal, Fran!!!
Eric
Winona Lake, IN
BOBBY G, My Man! Looked at this car and Bobby sold me
Ferlando
I found a really nice car at Richardson's!
I felt respected throughout the entire purchasing
process which I really appreciated. I definitely recommend
coming here.
Clay
Special thanks to Rico, Bobby G and Gary for treating me like family.... Loving my new car guys:)
Thank you so much
Melissa
Thank you to Jonathan and the Crew at Richardsons for the Great car and Excellent service. Tops down from Lake Worth Florida!!!
Cameron
Lake Worth, FL
Our purchase was the least hassel we have dealt with
while buying a car. 10 out of 10 buying experience.
Would recommend
I had seen a 2002 GMC Sonoma online and it looked really nice.. Did not think that it would be as nice as it was.
VERY HAPPY!!!
Brian and Robert
Lake Orion, MI
Thank You Gary and all Richardson Sales and Service staff in the purchase of my 2000 Firebird. It is just what I wanted.
Kindest regards and Best wishes for your Continued Success
Cordually, Brian
Tony did a great job getting me the car I wanted.
Excellent APR and wonderful to work with.
Thanks Guys, Antoine
Bobby G was Great!. Very professional and polite
Thanks
James
These guys at Richardson Sales & Service are Great at what they do!. Best experience buying a car that I ever had! Thumbs Up!!
Antwain
I Found the Bike I was looking for. Richardson Sales
is a very freindly family company.
Brian
Thanks Fran! You were a lifesaver. Truly grateful for my new vehicle. God Bless -
Kash
Fair pricing, and I actually got a little money off the bike too!!. Everyone was fast and realiable getting paperwork done and me out the door.
Thanks Richardson Suzuki
Garland
As all of our Experience with Richardson Sales and Service here is Fantastic, Salespersons are helpful, deals are fair and fast. Thank you Bobby G and Gary.
Susan and Bill
Thank you Fran! I love my truck! Best service around!
Katie
Thank you Fran for the great service!
Jordan
The Van I wanted was at Richardson Sales in Highland.
My Mechanic had told me they could be trusted.
I appreciated their Honesty.
Matt
Thanks for the Service that was provided in purchasing my motorcycle at Richardsons. The experience & the sales rep's were Great.
Thanks
L. Bradshaw
I was very pleased with the customer service. The truck was everything they said it was. I would buy from them again.
Gregory
Montgomery, IN
I'm a petite rider and wanted to trade in my big, over-the-road cruiser for a smaller street bike. Not a scooter, a "real" motorcycle. I saw the Kymco Spade 150i online and looked for one everywhere in my home city of Chicago, but couldn't even find a used one for sale. Then I found the new 2020 Spade at Richardson and gave them a call. On Wednesday, during the first call with Bob G, I asked, "Can we do this sale/trade remotely," and, without hesitation, he said, "Yes, it'll be the first!" The maiden voyage of buying remotely (for both of us) was stellar. We shared pics, details, etc.. via text and email along the way and by Saturday morning Bob had delivered the Spade to my door in Chicago (!) and took my trade-in back to IN with him. The whole experience couldn't have been easier or more convenient. I love the Spade and am grateful to Bob and Richardson for accommodating me and facilitating the safe, remote sale.
Thanks much and take good care,
Machelle
Thank You We Love our new Yukon. Tony was more than helpful
with our selection. Great Customert Service.
Dorothia
Thanks Aaron and enjoy your new Jeep.
" Thank You Tony I Love It"
I got what I was looking for. Tony and Gary treated me right
and I got a Good deal !!
Gerald
Bob was very informed about the vehicle. A pleasure to deal with.
Julie
Thank you to the team of Richardson Sales for the outstanding service and for making car shopping easy!
Bobby
Great experience at Richardson Sales! Thank you Fran!
Bradley
Thanks Fran & Rico for all your help. It is much appreciated.
Peter, Anna, Riley & Matthew
Thanks, Fran, I love my new car! Thank you for excellent service!
Kristina
Contacted Rico and he went above and beyond to assist me when I was shopping
for a Volvo. He continued to help me with my many questions. We were originally going to
another dealer but..... the car was so clean and Tony and Rico were so great that we decided
to purchase the Volvo. Thanks, Guys !!
Thank you Fran and Richardson Sales for my first car!
Ray
We drove from out of state and had a terrific experience. Simple process, excellent Salesperson (Bobby G) and friendly and helpful Finance Manager (Rico). I would Highly suggest purchasing a vehicle at Richardsons. :)
Phil & Gabriella
Morris,IL
Thanks Fran and all of Richardson Dealership! You guys have friendly and excellent customer service. My family and I will utilize your services for the rest of our lives.
Devin M.
The Richarsons made this so easy!! They are a great company, very kind and super helpful.
Mirmala
The Guys at Richardson are Great. Tony was very patient with us, and Rico did an awesome
job explaining details of our purchase and what option was best for our family. We would highly recommmend them for a personal experience. Such a pleasure to have met them and even better
supported their business.
Joaquin M.
Been Dealing here for years. And always Happy
April and Steve
Bob, My Salesman was very helpful with my decision to buy my new Equinox. He was very professional and knowledgeable. I recommend Bob.
Charlotte
Thank you so much for helping me with my purchase, Fran! Thanks also to Rico for helping make this a truly enjoyable and painless process. It was a pleasure to meet and work with you both!
Jeff
Thank you Fran for the great job selling me my new car!!
Esther F.
Richardson's was an incredible experience! Fran was incredible to work with and friendly.
DJ
Thanks Tony!!!... We Love our new Truck!!
V.C.
Would like to thank Fran and the Whole Crew at Richardsons for making purchasing a pleasure!!
Jason
Thanks Tony and the Whole Richardson Team for Great Service and a Great Truck!!
Wayne
Powell Butte, OR
Thank You Bobby G for our new truck!!
Marcell
Wonderful car shopping at Richardsons
Thanks Fran!!
Ron and Sheila
Hey Fran Thanks for my New Car!!
Luis
Grateful for Bob & Rico in helping me be happy in my new Cadillac
Ricardo
Thank - You to Bob, Rico and the gang!! Pleasure working with you guys!!!!
David
Great Service, Smooth Transaction
Thanks Tony & Rico
Donnell & Cynthia
Thank you so much for your time and patience! you have worked with me from the beggining and was also very helpful through it all. Truly appreciate you! couldn't have done it without your help!
Elizabeth R.
You were very helpful and sweet. I would definatley come back and do business with you!! I hope you and my mom becomes friends becouse she needs positive like you in her life. Thank you
Vicky U.
Thank you Fran for helping me get my Dream Jeep!!! You were all FANTASTIC to work with:) Worth driving 6 1/2 hours for!!
Jaci
Fort Dodge, IA
Well worth the drive from Connecticut. Beautiful bike, Friendly Staff...
Thank You All
Charles & Terrie
Watertown, CT
Thank you Adela and Gary for our brand New Truck!!
Dominique W.
Thank you for the Great deal on my car Gary & Team!!!
James
We had a great experience while test driving and reviewing a 2017 RAM truck from Richardson Sales. Our sales associate, Fran provided the best deal for our son's first truck purchase. Gary, Fran and the entire Richardson staff were so kind, fair and honestly felt like family. You can't go wrong with finding your next vehicle on their lot! Thanks again!
Nikki
Oswego, IL
I want to thank Fran and her staff, Good job for a Good sale today and a Good company to work with.
Thank you all Good people
Mr Glenn
Great Service, Very pleased with Richardson Powersports. I highly recommend them to everyone looking for a motorcycle or a car.
Jerome
The Service here at Richardson was amazing 1st class from beginning to end of the sales. Adela was phenomenal and Rico was the best.
Anthony G
Thanks Fran!! The vehicle is perfect. It is everything I hoped it would be. The experience with you and Richardson Sales and Service was Awesome!
Thanks again for everything
Howard
Gallatin, TN
Thanks to everyone at Richardsons. Lovin my new car!!
Anthony
When I met this Woman Fran, she became my Earth Angel. I just love her as a friend. A Real Friend..
Amen!
Caroline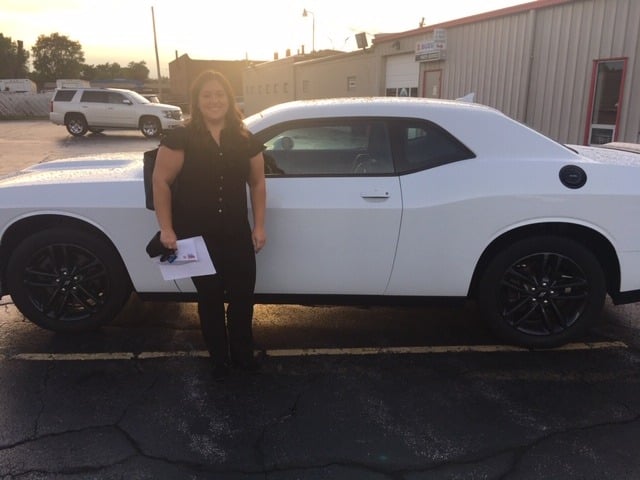 Thanks Tony for my Awesome new car & Rico for being so easy on the eyes during paperwork!
Courtney
Adela is Super Awesome!!
Lisa
Thanks a Million Fran @ Richardson Sales & Service. Love my new car! A present from my Amazing Hubby!!:)
Stokes Family
Thank You Tony, Love you for my new bike
Rene
Thank you Fran for amazing customer service! We Love our new truck
The Valdes Family
Great people! Love my New Car!
Kathy
Fran helped me find my Dream Car. I always knew what a Corvette was before I ever knew what a foreign car was. When I was a kid I used to sleep in a Corvette bed and now I'm driving one!!
Jacarr
Thank you for your patience and help while I found a transport service to take my vehicle to Long Island. A special thanks to Fran Balind for all her help. I sure do appreciate it ,especially during this crisis. God bless and be safe.
John D
Baldwin, NY
Thank you so much for finding my Perfect Truck!!
Seth G.
Lafayette, IN
Tony, Thank you for your Professionalism and Courtesy
Matt
Fantastic Service! Good Deal! Would buy from these guys again!
Anthony
Thanks to Everyone at Richardsons!
Kathleen
Thanks Gary, Great first Jeep!
Kyle
Jasper IN
Thank you so much Fran for all your help today in helping me to purchase my very first vehicle. It was a wonderful experience.
Thank you
Tameka
Thank you so much for a very nice car. We Love it!
Mr & Mrs Trotter
Milwaukee, Wi
Great service from a friendly staff
Joe
Thanks for my first new Truck:)!
Aniyah
Thanks Rico for staying late. Love my new Caddy!!
Gerald
I highly recommend working with the team at Richardson Sales & Service. It's a breath of fresh air dealing with this team for a vehicle purchase.
Thank You!
The Munoz Family
Thanks Fran, I Love my New Kia!!
Kim
Thank you Adela, Love my new Kymco Scooter!!
Steve
Bruce and Patsy with thier new Kymco Scooter
Finally found the Scooter for us! We love our new Kymco. Can't wait to have my Hunny take me out on it! Thank you for all your help!:)
Tammie
Bowling Green, KY
My #2 Vehicle from Richardson Love Adela & Staff. Friendly Service.
Jennifer E
Tony, Really love the new bike
Michael
Thanks Fran for the New Truck......
Tony
Tony, Thx for the good customer service. Great Car! Great Price!
Come see Tony @ Richardson Cars in Highland!!
Juan
I had a very easy an awesome, speedy transaction. staff was great and friendly. made me feel very confortable with my buying experience. car was great, clean and I loved it! will definitely recomend coming here. we will be back for our next vehicle!!
I Absolutely Love my New Jeep Wrangler!! Absolutely great and helpful staff...
Thanks
Leonora
Best Car & Truck Sales Ever!!
Jesse
My dream truck brought to me by kind people. Couldn't be happier!
Ryan
The whole experience was great from start to finish. Fran and Rico were awesome! They helped me through the process of buying a vehicle. The van I purchased was in great condition. I would recommend them to anyone who is looking to purchase.
Latonya
Thank you Tony & Richardson's for taking such GREAT care of us! It is truly appreciated and I Love my new car!!
Marilyn & David
Dwight, IL
Tony and Rico did such an awesome job finding us exactly what we needed for our growing family. We will definitely be returning in the future!!
Enrique and Celina
Beyond Happy with my experience. Went above and beyond. Great customer service. Will definitely come back and send people here.
Ryan and Valerie
Richardson put us in our perfect car!!
Kalvin and Shawn
Thanks Rico, Tony, Gary and all the Richardson Crew. Found a Great car at a Great Deal. Treated me like a Queen for my Mothers Day!!
Sandy and Randy
(Shown here staying safe and practicing social distancing)
Thank You, Fran. We are very Excited!!
Rose & William
Staff is super friendly and helpful. super quick service and purchase. Highly recomended!
Lee S
Love this place really tried hard to get me in. Thnk you Adela & Rico
Dawayne B
My name is Sunny, I just want to thank Richardson's for all of the motorcycles that I have bought here. I wont go anywhere else for a vehicle!
Thank you Gary & Staff
Sunny
Love the Bike. Sales team went out of their way to help get what I wanted. Tony was Great!!
Bob
Thanks Fran, We Love our new Truck:)
Richard and Valerie
P.S.- Rico you're cool too!!...
Thanks Tony. Love my new Enclave. Good people to do business with.
Sean
Thank you Fran for Great Service and a Great Vehicle. You can't imagine how much this means to me and my family!!
God Bless!!!
Jerome
Detroit, Mi
Thanks Fran, I Love my nw truck!!
Thomas
Thanks Tony and Rico for helping me with the car I was looking for
Stefan
Richardson Sales and Service has been such a blessing. Today I drove away with my dream truck. My Sales rep. Adela del Real was the best. She desplayed initiative, honesty and patience. She is the definition of Great Customer Service.
Jeremy J. J
Big Thanks to Fran for all your help on buying my 1st Harley.
Thank You All
Jeremy
Love my New Bike. Thank You Richardson, Salesperson was very helpful!!
Thank You Fran Balind
Latasha
Thanks to Richardson Auto. Great experience and helpful sales woman Fran. Love my new car!!
Thank You Rico
Yanike M
Tony it was great meeting you, Gary and Rico. You made me feel like l've been buying vehicle all my life. Gary should be very proud of you and his entire team. The professional customer service and caring for the customer. It has been a truly pleasure to work with you today.
Rick C
Thanks Richardson Sales and Service for a truly great used car buying experience!! The car was exactly as you described it, it ran perfectly on our trip back from Indiana to Arizona. We wish there were more used car dealers out there like you guys!
Jeff & Lorena
Kingman, AZ
I'm very happy Adela. you were so professional about the truck. explaining all the details about it. Fran took me for a test drive, she was awesom as well. This dealership is awesome. If you need a vehicle Richardson Suzki is a Great Place to get your new or used vehcile
Timothy P.
Had the best experience at Richardson. Thank You Tony for coming in on your day off. My daughter is so excited!!
Kelli
Thank you for the prompt service. I am very happy with my purchase.
Mario D
Thank You Rico and Fran. They made buying our 2nd vehicle experience great. Would highly recommend purchasing a car here.
Andre & Kim
Thanks Fran and Rico. You guys worked with me and made everything Super Easy. See you next time I'm in the market.
Brandon M
Thanks to Rico & Fran for an Amazing purchase experience! Remember to stop by Richardsons and tell em Freddie sent ya!
Freddie R
I was looking for the best truck and I only found it at Richardson. Thank's to Adela this is my second vehicle that I buy here. She's very friendly and honest. I highly recommend her.
Thank you
Guadalupe H.
Adela del Real great person to work with.
Best always
Jimmy P.
The Sales were really good. Adela was great with setting up. Deffinatly 5 star
Nick W.
Thanks for all the hard work Tony, Love my New Harley
Gabe
Thanks for the Great Bike & Great Service
Matt
Thanks for the newest member of the Fam, "Charlie Brown"!! SHE'S Sweet:)
Bailey
Pekin, IL
Thank You Fran & Rico!!!
David E
Thanks Tony! We Love our Acadia.
Tatiana M
While looking to buy a new truck, we were fortunate enough to find Richardson Sales. Fortunately for us we were greeted with Great customer service and an exceptional truck. Richardson employees took thier time to make sure we understood everything about the truck and thier offer. This made us feel extremely comfortable in our choice of dealership. Richardson Sales is trust worthy and everyone should definitely stop by adn see if they can find thier dream car!!
Marvin S
Great Experience... Customer Service exceeded expectations.
Samantha G
Thank you Adela for excellent service and my New Equinox.
Dennis L.
Thank you Rico so much for making my experience a good one when buying my new car.
Sherri S
Thanks Tony, Great Experience!!!
John W
My experience with Richardson Sales was terrific, very friendly, very polite, and always helpful. At the end of the day Super Satusfied with the service. Thank you Richardson!!
Miguel F
I Robert W. I am very happy with my New Chevy Truck.
I love our new Yukon!! Our sales person Adela was so sweet and nice, very helpful! Plus I love the color red!!!!
Jodie P.
Thank you for your help in Puchasing the Van.
Jim V.
Great Service, Very Nice people!!
Rosalind T
Very good customer service. I love the people her cause they are very trustworthy and honest. They are very good and awesome!!
Don H
The people here at Richardson Sales made my experience comfortable. Fran is an Angel and Rico & I speak the same language in terms of sports cars (15 Camaro 2SS). I highly recommend this place for your car buying experince.
Orlando T
Thanks Tony & Rico for helping me find the car I really like and for making it all easy for me!!
Larry Z
Thanks Tony for my new Charger R\T. Great Experience
Terrance J
I was very happy with the service I received from Richardson Sales and Service with the purchase of my used Harley.
Christopher H
Thank You to Richardson staff. My God Bless you for my new car!!
Addie Mae
Thank You Fran. We Love our new vehicle. We had a great experience with everyone at Richardsons
Marshall, Nicole and the girls
The staff at Richardson Sales & Service was wonderful to work with. We love our new truck.
The Parkers
Always a Great experience here. Thanks Tony and Gary!!
Josh H
Buying my Corvette from Richardson was a pleasure. No pushy sales, no pressure at all.
They wernt trying to milk me for every dollar.
Pure straight talk is what you get from Richardson's.
I hope to buy my next car here.
Thanks much
Angelo
Very Comfortable experience. Great Staff!!
The Reyes Family
Better than the fancy Dealerships! My Girl Fran did me good!...:)
Lexi S.
Came out this morning got a good deal & Service. At Richardson Sales and Service. The sales consultant Adela del Real so outstanding in the process.
Edward J
Love the New Harley!!
Damian F
Excellent people to deal with! Happy with the Whole process. Great price on a fantastic little truck, I'll be back...
Jeff A
The entire Richardson Sales & Service crew were very accomodating to my situation and went above and beyond what I thought was already a pleasant shopping experience.
Dylan Middletown, PA
Very Welcoming and Helpful people
Jocelyn G
Great deal, Thank You Gary, Tony & Rico for all your help
Chic and Sandy
Came in for a Harley, Tony and Rico went above and beyond in helping me. Would recommend Richardson to anyone!!
Daryn S.
Thanks for all the help getting me the info for the perfect Jeep I was looking for!!
Marshall W. Appleton, WI
Tony and Rico made the process easy and worked with me to get the info and photos I needed, 1000 miles away!!
Hayden
Fort Collins, CO
I Loved my experience at Richarson Sales and Service
Kennedy Y.
The 2008 Lincoln Town Car was in excellent condition. Traveled @ 500 miles to acquire it. The personnel, Adela & Rico, were professional, truthful and helpful in every way possible.
Phyllis & Vernon
Huntington WV
Tony, Rico, & Gary ensured us an easy painless experience.
Thank you guys
Tarynn and Mike
Finally got an SUV!! Enjoyed working with Tony and Rico too.
The Cabreras
I would like to say that my experience at Richardson was outstanding, I would highly recommend this dealership to everyone.
Gregory F.
Thank You for your time and patience
Mike D
Made car buying Easy!!
Victoria D.
Thank you to Fran. She is an excellent sales person.
Thank You and God Bless
The Wilsons
I had a Great experience. The staff went above and beyond for me!! I would highly recommend!!
Jose G.
I appreciated the friendly, yet unpressured atmosphere. The staff (Gary, Rico and Adela) are professional, courteous and very helpful. They answered all my questions. In the end, this made my purchasing a car decision, through this dealership, less stressful and a very positive experience. Keep up the great work in putting the customer first.
Leslie K.
My experience was great! All of the workers were helpful. I love my new car! I would recommend this dealership to anyone who comes.
Daniel T.
I had a great experience. They had my trade in evaluated, my car ready, financing done, and keys in hand all in 1.5 hours. I will be back for my next car.

Zack J.
I had a great experience with all the staff. They were very helpful and gave me a awesome deal on a truck.
Mike B
Adela was the best car dealer I have bougth a car from. She made my experience easy and made me feel comfortable. Great team at Richardson!
Diamond N.
In a word, "AWESOME"
Brian H.
Thanks for the help in getting me into a newer car.
Dave S.
Very Happy with Richardson staff. Love my Ford F-150
Pavol A.
Don & Rico were extremely helpful & made the purchase proccess painless and fun! Thank you
Melissa M.
Thank you for a very pleasent visit. Tony was a great Guy & will recomend your company/dealership to all my friends. Thanks again
Ayman A.
Very Pleasurable experience. No pressure and easy to deal with. Would definitly recommend Richardson to others.
Kurt P.
Another Great Experience Dealing with an Exceptional Dealer. Love my Lexus :)
Bobby G.
I didn't know it was this beautiful!!
The Lewis
Everyone was very helpful and friendly. will enjoy driving my new car.
Austin S.
I been bless. Love the truck they sold me, Luis was cool.
Mario P.
Awesome Experience every time. Will always be back!
Mitchel M.
Thank you to Richardson Sales and Service for the painless car buying experience. a special shout out to Tony for his time and patience. Thanks to Rico for your professinalism.
Carnecia W.
I've always been treated well here. Dealing with Richardson for many years.
Scott H.
I'm very happy with my purchase!
Gary Richardson is the best....I'm very happy with my 2016 Audi A7 Premium
Ralph B
Finally a Jeep girl, thanks Adela!
Anna W
Richardson Motor Inc
Great cars, excellent experience Don & Rico awesome services recommend without reservation even long distance. From Delaware.
Peter W
I visited Richardson Motorsports and I was a satisfied customer. I have to thank Luis and Rico Sales Agent for their cooperation. I will be doing business again.
Thanks Fellas
Zeabrady M.
Richardson Sales Consultant Louis Molasco had a great positive attitude! we are excited to make this vehicle purchase through Richardson Sales! Thanks
Claribel R.
From A to Z everything went smooth. No BS Involved
David L
Luis, Gary Richardson and Rico, was very courteous and professional! I will definitely come back! Thank you guys for everything!
La Treece H.
Adela is very professional! no pressure at all. Thank you for all you have done.
Keilan H.
Adela really went out of her way to find the vehicle that would suit me. My family and I had an exceptional experience when buying our vehicles. Love my new car. would highly recommend.
Salma J.
I enjoyed my buying experience here at Richardson Sales and Service. Adela was very kind sales consultant. Rico was quick in the finance office. I will definitely be back for a Cadillac Escalade
Jose C.
Great Service, Love my Bike. Fell in love with the bike. Nice dealer
Marty L.
Had a great experience with Louis & Rico! Entire staff was friendly and helpful. I will definetly recommend anyone coming here! Thanks for making my buying experience lasy.
Nicholas H
VERY HAPPY WITH MY NEW HOG!
Luis, thank you for everything. attached is my review. I recommend Richardson Sales, and Service, and powersports for your next motorcycle purchase. I called about a 2015 C90t they had advertised and talked about trading in my 2005 C50. I spoke with Rico and texted photos of my bike to luis. We came to an agreement and I traveled 300 miles with my bike on a trailer and arrived shortly after they opened. Luis met me and helped me unload my bike. I looked at their bike and we went in to do paperwork. Rico, Luis, and Mr. Richardson were a pleasure to work with. They helped me load my new bike on the trailer and then I headed home. I would recommend Richardson Sales , Service and Powesports to anyone looking for a motorcycle, scooter or Car.
John B.
Great service, Reasonable pricing. Happy to have bought here!
Dennis Patterson
What a great car buying experience!
Randy
Wonderful Service! Love you Gary.
Patricia Harrigan
Great buying experience took me a while to decide on purchase of 2008 Chevy Corvette. dealer made a great deal I couldn't refuse. I would buy here again! nice selection of cars. I almost bought the chevy SSR
Thanks Everyone
Kevin Upshaw
Easy buying experience with excellent service
RICHARDSON SALES & SERVICE
I bought a 2004 Mazda RX8 on May 22, 2019 and I look for a long time and found it here. very clean and salesman was great, Pleasant & knowledgable. the manager (Rico) was great also. He hooked me out with great financing and helped me out with options. Everyone treated me with respect and I apprieciate that. 5 STARS!!!
Duffy Mack
I'm glad that I found Richardson Sales and Service on CarGurus. Great Service and Sales Team. Would recommend them to any and every one I know. Thanks so much
Marcus Mccollough
Great Peolple and Great Service!!
George Beal
Bob & Rico, These two guys made my buying experience great! Thanks for adjusting to all of my requests.
Erwing Flowers
2011 Suzuki Kizashi
Great service. I'm excited to drive my new Kizashi. Thank you Adela and staff!
Fidel E.
2011 Toyota Highlander
Having been frustrated with finding a new family car, we decided to look into Richardson Sales and Service. Immediately, we were greeted with a HUGE smile from Bob. He listened to our needs for a vehicle to fit our growing family, and we fell in love with the first car he showed us! Rico and Bob are excellent in customer service, and if we ever plan to add another vehicle to our family, we will definitely return.
Oscar B.
2013 Ford Escape
Richardson Sales and Service was the first placed I stopped. Bob came to help out right away as I continued to look. A few minutes after leaving, he called about a car. I came back and fell in love with it. They have great customer service. I highly recommend people coming here!
Rebecca J.
2011 GMC Acadia
5 Stars! You guys were VERY awesome! Thank you so much!
Jessica K.
2006 Nissan X-terra
I enjoyed my experience here at Richardson. Everyone was nice and knowledgeable.
Tiffany C.
2011 Chevrolet Traverse
Bob was very helpful and also patient with me because I can be a handful. I'm very pleased with his service. They made me feel like part of the family.
Heather H.
2009 Ford Edge
Our experience here was the best we have had in our 20 years of buying
vehicles. They offered the cleanest, high-quality vehicles around. There
was no pressure to buy and they were extremely friendly. We will back
for our future vehicle purchases .
Thomas & Holly J. from Highland.
2001 Chevy Monte Carlo SS
My service here was the best I've ever had. Carmen Rangel is the sweetest and best sales person I have ever met. She was very kind. I enjoyed my experience. They also made sure everything was in excellent condition before leaving the dealership.
Eve P.
2014 Cadillac XTS 4 Sport
Mr. Don Thomas was very diligent and helpful. He extended legendary customer service. His personality and salesmanship are the main reasons I purchased the 2014 XTS.
Chantill J.
Joseph provided a wonderful car buying experience. He was knowledgeable and fair. Thanks Joe for all you've done. Happy Holidays Joe and the Richardson Staff
2016 Jeep Renegade 4x4 Trailhawk
Everything went very well. Gary and Carmen were both extremely helpful from the time we walked in until the time we left. Would recommend their service to anyone.
Ram 1500
Today I purchased a 15 Ram 1500 from Carmen and couldn't be happier! She was a wonderful lady to work with and went the extra mile to make this deal happened! Thank you,Carmen, for all your help!
2011 HONDA ODYSSEY
THIS IS VEHICLE NUMBER 7 PURCHASED AT RICHARDSON SALES WITH ADELA. SHE IS THE GREATEST SALESPERSON EVER AND YOU WILL HAVE THE BEST EXPERIENCE EVER WHEN YOU COME IN TO SEE HER.
2008 Ford Focus
Second time I've bought a car here at Richardson. Great deals and good quality used cars. And the sales person (Carmen) was very accommodating. Will do business again.
Joe and Bill were honest and upfront with everything with car and financing. Easy going people here. There was no pressure with the sale. Thanks for everything.
Richardson
Joe over at Richardson Power Sports was top notch and very informative. He and the owner Gary made my buying experience easy.
07 H3
came in and wanted a jeep that my heart was set for.....walked out with a hummer....thanks Adela for everything....im gonna love my hummer>>>Adela is great, come see her>>> Imelda
04 Cadillac CTS-V
Great sales and service! If it wasn't I would not be a repeat customer. Gary and his team is the best. Adela was awesome to work with.
FAMILY car dealership
BIG THANK YOU TO Gary Richardson and his CREW!! Thanks to Joe Esposito for working with me and my daughter (also posted her testimonial) for SO LONG and being SO PATIENT with us from car choosing to understanding paperwork, terms, etc. I LOVE MY FORD FUSION that I got from the car dealership that CARES!!! My daughter just got her first NEW car from here (2014 so newest, I guess). THIS IS the dealership who cares! We know we'll get great after purchase car service as well. Our family has used their services ever since moving to Indiana from small town Iowa through busy Chicago. Gary has been like that father figure (although he's not old enough, lol) to help with the car buying experience. Jay in service has always been reliable and honest about repairs, what's safe to drive, repair priorities, timing, etc. This is the FAMILY car dealership. THANKS FAMILY!!
Chrysler Town and Country
I haven't bought a car from anywhere else. I came in searching for a specific van and Gary delivered. Thank you for the years of great service!
2013 Acadia
The experience at Richardson Sales and Service was wonderful, the sales persons Carmen and Adela are wonderful and really helpful. Our experience was great and the payments are flexible. we definitely recommend this place. Andres Gutierrez and Marisol Leon
2013 RAM
had a very great experience here at Richardson Sales and Service. Adela was a very big help and I would come back!!
HONDA CR-V
Yay Richardson's Sales and Service! Vehicle number 3 just purchased today!! Adela and all the team have been so patient with me as I waited to find the right vehicle!!1
2016 Honda Fit
We are very pleased with this dealership! They have gone out of their way to help us out with service and to also find us a way to get a better deal for what we were looking for in a car. This is now our second car that we have purchased through Richardson Suzuki. Adela Del Real has always been so personable and very thorough with her information to us about our car. What we love about this dealership is that they are truly not about pushing sales on people but about trying to meet the needs of their customers. Adela and everyone here at this dealership is truly an amazing group of people! Thank you for being there for us and for providing us with the best car that will meet our needs. Thank you, Adela!
Great Customer Service!!!! Found the perfect car at the perfect price. Joe & Bill were extremely helpful and everything was great.
2015 Chrysler 200
the 2015 Chrysler 200 is an amazing car which I enjoyed from the start the test drive that was allowed to me. Not only was the car amazing but the dealer as well. Richardson sales and service is an amazing dealer with a great vibe, especially the sales person, Adela. overall, a great experience was provided.
Very good experience
The sales person, (Don Thomas) was wonderful to work with. I drove from Kansas City to pickup the scooter I purchased, and Don's help is what made this a very good experience. Thanks guys!! Rod
Joe and Gary were extremely helpful! After a horrible experience with Webb Ford they stepped in and helped me find my dream car! They showed me all my options and got me a great deal!
16 HD Roadster purchase
Just wanted to say that my sales experience went great. At age 43, this was my first motorcycle purchase, but I've been around the block. I had the opportunity to work with both salesmen, Don and Joe. They didn't try to push any unnecessary add-ons and I left feeling like I got a great deal. The finance guy, Bill, was great. I also got a call from the owner regarding delivery of my bike. A great dealership to work with.
2012 Ford Escape
I had an overall great experience buying a SUV and the salesman Joe was no pressure sale, worked with me, understood my needs and want. Gary helped me finance and got me the best deal possible. Outstanding service. I feel trusted with a family owned business, thanks. - Bob P
Toyota Avalon
Adela is a good sales lady. She was friendly and very helpful answering questions and good at taking care of a minor problem I had. I would recommend her to anyone who needs help purchasing a car.
2014 Nissan Sentra
Omg, thank you again Adela for being an awesome saleperson to my family. My mom is my 3rd family member to purchase from Richardson and we are soo pleased with the service and we'll be sending friends to you. Diana Robinson
Good deal on a used truck. Friendly and Professional sales department. Would recommend the team at Richardson Sales & Service. Joe helped out tremendously.
Worth the drive
We visited Richardson's website and after reading the reviews & seeing the selections, we decided that this was the right place for us. It was worth the 90 miles that we drove each way. The courteous service & knowledge that Joe provided was appreciated and he was great to work with. The transaction was very smooth and we look forward to doing business here again. Pete & Rose R.
2014 Wrangler
absolutely love my new car. And love the people that work here, and my wonderful sales person Adela.
My salesman Joe made this experience as smooth as it could possibly be, he got all the information to me on time and constantly reassured me that the car was in great condition making it easy to sign the deal. The BMW I purchased has a great warranty that makes me confident the car will be a buy. I cant thank Joe enough for his patience. This dealer is great and gets down to business. Again, Great experience! keep up the good work.
Great people and great service!!
Joe and Ed are great, down-to-earth guys. Easy to work with and know how to treat the customer! Came in looking for an Escalade and left with a great ride. They took care of a few things that needed to be corrected and made sure I was satisfied. Will definitely recommend this place to a friend.
2012 Ford Escape
My husband and I were looking for an SUV and I searched everywhere. My search ended when I seen this 2012 Ford Escape for sale at Richardson's. the people there are very friendly and attentive to my needs, especially Joe and Gary. Love the new vehicle. Thanks Richardson's for making my dream come true. Jody and Dennis
2014 Enclave
Everyone was more than patient, and did everything to accommodate me. I would buy another vehicle from Don and the crew at Richardson.
2015 shadow
Don was very friendly and helpful. Thank you Richardson's for great service.
Joe was very easy to work with. He made the deal happen how we wanted. We are pleased with the way we were treated and the staff was good. The inventory was very good.
2009 CF Moto
We want to Thank Joe our salesman for waiting on us to drive up from Ohio to see the bike. Thank you, Joe Esposito! Thanks also to Gary for letting my hubby test ride it first. You have a great location and are very happy with our experience at Richardson's. Will let others know about our buying experience and will definitely recommend you. Mary & Vern
2015 Kia Optima
This is the third vehicle purchased as a family. Thanks Adela!
2010 Yamaha
Pleasant experience. Guys did everything to make sure the deal went through and most important, they made me feel at home. Daveon Wright
2013 Nissan Pathfinder
It was a great car buying experience with a excellent sales rep thank you Adela and Gary we will recommend to friends and family.
08 Harley-Davidson
The buying experience was great here at Richardson Sales and Service.Thanks Adela and Gary.
05 Corvette
Excellent customer service. Adela Del Real helped me every step of the way along with Gary Richardson (owner). Very quick and smooth transaction. I applied for the car and within 24 hours I drove off the lot with it.
Cadillac SRX
GOOD SALESMAN!GOOD PEOPLE! AND THEY STAND BY THERE WORD. VERNON FLYE
GMC ENVOY
You guys always do good! That's why I came back! Kenneth Lloyd
I cannot say enough about the staff at Richardson. Joe and Ed played no games and had me financed and out the door in just what I was looking for. I am very please with my last minute decision to stop in and ask about the Chevy Sonic LTZ, so glad I did. Thanks for all your Help Joe, Ed. Jason T Ramirez, COSS
2015 Harley Davidson Softail
The service at Richardson Sales and Service is great!! Thanks so much Adela and Gary.
Great service. We drove by on a hunch to check out a pick up, not really looking. Drove back to Indy in a new/used pick up truck. Thanks Joe, Dave O'Malley
2013 Silverado LT
Wasn't sure of wanting to buy a used truck. Went looking at popular name new car dealers used inventory. Heard about Richardson from living in the area my whole life. Had a friend that was friends with the owner. After looking at numerous trucks, I found the truck I was looking for. What made this decision also had to do with the awesome salesman Joe! No pressure no pushing into a sale. I'm very happy with my new purchase of a 2013 Silverado.
Very pleased
I made the drive down from north of Detroit and the car was everything they promised!! Great car, great deal and excellent customer service. They responded to my calls right away and always answered any questions I had. I didnt feel rushed or like I was a bother. Joe and Ed were super!! Highly recommend this place for any car or bike!
Love my Crossfire! 😀
I had never purchased a car before from an online source, from an out of my state dealer. Joe Esposito is definitely a 10. He made my purchasing experience a pleasure. I will definitely recommend him and your dealership to my friends. Thx., have a wonder summer. Michael Gearl
2014 Ford Fusion
I am very happy with Joe and Ed, and the dealership. We had a very nice experience needing to find a car with time pressure and particular logistics needs. I found Joe and Ed understanding of the needs and trying their best to make our purchase successful. I would definitely come back if in need of a car again.
Kymco Spade
Bought a Kymco Spade. Drove 4 hours to buy this as Ohio doesn't have them yet. I got the best service I have ever gotten, Even met the owner of the place which I have never had happen. treated me like we were family. Didn't rush the sale, took their time to get to know me and my family. well worth the 4 hour drive. would do it again in a heart beat. you folks at the dealership are the best. Thank you. God bless, Jeremy Gray
2016 Ram
The Richardson Sales Team is the greatest. We have had the best experience, and have been a customer for 17 years, and will continue to do business with them. Adela and Don are the best.
Great experience
A few weeks ago I bought a 2013 Buick Verano, slightly used, and I'm very happy with my purchase. The staff was very friendly, knowledgeable, and patient, as during the process I had to get into it with my insurance company. I'd definitely go back for service or the buy/trade vehicles in the future.
Excellent Service!
I recently purchased a Kymco Spade 150 from Richardson Sales & Service. Their sales team was professional, knowledgeable, and accommodating. There was a mishap regarding the listed sale price and the owner honored the listed at his expense. Furthermore, they made accommodations to bring the bike to me within a timely manner (small fee). After purchasing the bike, Richardson has continued to keep in contact to ensure I'm satisfied with the bike and answer any questions I may have regarding upgrades. I will certainly be seeking out Richardson Sales & Service for my future purchases.
richardsons sales is a non pressure comfortable atmosphere to shop in. They make sure you are comfortable in every aspect before you buy and everyone there is very nice. i worked with joe and he was absolutely great. lots of cars to choose from once i was here i knew i was going to buy a vehicle here. oh yea and free carfax!
2011 Lucerne
Thank you Adela!! I'm very happy with my vehicle!!
Joe was friendly and nice.
Chevy Cruze
Richardson Sales and Service is an outstanding business and thanks to Adela I have a new Vehicle!!
My family's car dealership
My husband and i were in the market to trade in our vehicle. There was no question where we would go to get our next car, Richardson Sales and Service. Our family has purchased 8 vehicles from Richardson over the past 20 yrs. We have always gotten good quality vehicles from this dealer. This time we walked in at 4:30pm and we were driving away in our new truck at 7pm. Gary, the owner, made sure we were satisfied. Plus no words can describe the sales manager Eddie. He worked a great price for us, with and extended warranty. We love our "NEW" 2013 Dodge Ram 1500 Crew Cab!! I must not forget Jay and his service department. If there has ever been a problem with any of the past 8 vehicles, Jay and his staff fixed the problem right away. Richardson Sales and Service is our family's car dealership. Harold and Latonia Marsh
great painless car buying experience. Friendly service competetive pricing definitely worth the 2 hr drive. two thumbs up for Joe and Mr. Richardson.
2014 Dodge Dart GT
at Richardson sales i had a great experience with Adela ,she was very helpful and answered every question without hesitation
2009 Can Am Spyder
I had a very good experience with all the staff her. Anthony B. my salesman was very helpful and very personable. Nothing but great things to say about the staff as well as getting a great deal on my 2009 Cam Am Spyder. I would recommend them to everyone.
2016 Nissan Frontier
Experience was excellent. Will send customers to the dealership. Great service!! These guys care about the customer and make you feel comfortable. Not just a get a deal done kinda place. No high pressure very friendly and patient John R. was with me. Thank you for the business.
2010 Ford F-350
My experience here at Richardson has been very good. They have taken the time to work with me in getting the vehicle that I wanted. They are great people to deal with when buying a vehicle. Thanks to all for a great experience. John R. was great from start to finish Thank you all!!!
2010 Camaro
Our sales agent Adel was wonderful, I would recommend Richardson Of Highland to anyone looking for great auto's and a wonderful & great experience, with the whole staff.
2012 Silverado
I really appreciate the low-pressure environment at Richardson. They actually listen to you and help you get a vehicle that's best for you NOT them. I could not be happier!!
Very easy people to deal with. Had a good experience and got a great vehicle.
2013 Chrysler Town and Country Touring
John R. helped us find exactly the car we needed for our family. He stayed late on a Friday night to answer all our questions. Great service and a great team! We are so excited to have our new van.
2000 Cadillac Eldorado
Great and friendly service!! John.R my salesmen was willing to come to my home and pick me up! They have been exceptionally gracious and helpful with all concerns and questions. Thank you guys for the great deal and all of the help to get me DRIVING! If you ever need a car come see the Guys at Richardson.....
05 Cadillac
We were so very satisfied with our experience! Adela was very professional and helpful, Thank you Richardson.
2009 Saturn Vue
Service was Great!! NO complaints, sales person John Ruiz was very knowledgeable, his his cars. Sales manager Eddie was very good to work with also. Overall excellent Service thank you Guys!! Great SUV at an even better price. Come See Richardson's team.
Kizashi
There are not words to describe this amazing dealership. Several years ago was our first experience with them. we came back again and asked for Adela. She is so personable and never pushes. She knows her inventory inside and out. She will always be our go to person! Owner GAry Richardson lives up to his website name" The Dealer Who Cares" God Bless all of Richardson Sales! Thank you for another excellent experience! Jim and Cathy Meyer
2011 Buick Regal
Adela is very professional. I am so glad that she helped me buy my very first car. She is full of information and helpful. I could definitely tell she had every intention on helping me find the perfect car. Definitely a positive experience.
Honda Odyssey
I found the perfect minivan! They worked to get everything perfect for me and made financing so easy! John was the best sales guy I have every dealt with at any dealership. Very pleased with my experience and would buy from Richardson again!!
2007 Honda Civic Si
the service was great and the employees were very kind. i enjoyed doing business with them.
2015 Jeep Grand Cheroke Laredo
My Salesmen John Ruiz took great care of me! He was very knowledgeable, personable, and informative but not very pushy in any way. The vehicle was very clean and in great shape. I had a good experience at my test drive but wanted to check out a few other vehicles before I decided and after experiencing the other dealerships John and Richardson stood out even more because of the professionalism of their sales team and the cleanliness of the vehicle over the other ones I visited. Needles to say, I came back, purchased the Jeep and am overall very happy with my experience with John, Eddie and all of Richardson.
My sale person was very helpful from the time I came onto the lot. He didn't push to try to get me to buy something I didn't want. I really like that here. I felt comfortable walking out the door with my new suv.
2014 Nissan Juke
The service here is great, and the process of getting the car was super easy, I would definitely recommend people to come here!
Greg Felton
Relaxed environment without high pressure sales. Nice selection of vehicles, worth a look if your shopping.
2007 Caddilac DTS
Very friendly and courteous service. No high pressure. Appreciate all the service from Adela and John. Ed the sales manager was fantastic to work with. Thank you all for the service provided. We will recommend friends and family to buy from Richardson !!
SUZUKI GRAND VITARA
We just purchased our Suzuki Grand Vitara Last week September 2017. This is not the first time we used Richardson, We had a heat sensor put in our car they did not gouge us and were the least expensive we could find. The thing i love about Richardson is they really do care, they do what they say they will do. It is so hard to find a dealer today to trust and care for your car, I truly trust them I tell every one about them, now let me tell you how great the Suzuki is although it is a 2012 it rides and smells and looks like a new car. I just love it!!! All I can say is the service is so great they really try to help. I know they really care. I can't say enough about them I have bought cars from many dealers over the years, so that's why I can say first hand how great the service is. And the key to all that great service is JOHN RUIZ, JR. he is their sales consultant John listens he actually hears what your needs are. He tries to put you in what you want and he always says we are going to get this done, He is the best. And then to wrap it all up you need EDDIE the perfect team! so Richardson is great front to back. The Grady's
2016 trax
Adela was very helpful. We came in looking for a specific vehicle. It was on loan, but she was able to get us the vehicle we wanted the next day. Adela was very helpful and friendly.
2011 Dodge Charger R/T HEMI
I had the best experience with John and Ed at Richardson dealership. Joe made the paperwork experience easy and explained everything in detail. The overall experience was excellent and I will definitely refer them to my family and friends. Thank you John for all of the knowledge on the Charger!! GREAT DEAL SHOP WITH RICHARDSON
2010 Avalanche
Another very happy customer. i purchased 4 vehicles from Adela @ Richardson Sales and Service !! IF they sold boats, I probably purchase a boat also.
Happy Customer
We just recently moved into the Highland area, not having a relationship with any banks we were looking for a 2nd vehicle, since we had given ours away before moving. Richardson's was very comfortable in assisting us and helping us to purchase our vehicle so that I no longer had to walk. Would highly recommend them to everyone, great place to do business.
Satisfied Customer
After weeks of looking on line, the wife and I found 5 vehicles that we want to look at. Carlos Alvarez greeted us upon arrival and created a very enjoyable day. We spend several hours looking at and test driving the cars. The entire time, Carlos had us smiling and laughing, without any real pressure to buy. In short, a very enjoyable shopping experience. Would recommend Richardson Sales, and Carlos, for anyone looking for a quality used vehicle.
2007 Honda CR-V
So excited about my new vehicle! Adela and Ed are wonderful! Best car buying experience yet!
wonderful service
Thought I was just going to browse. I checked them out on line,they have a good rating. so found a car that I really liked and checked them out on line and the car was the best buy. lower price than the same models listed else where so the next thing i knew i bought it. Customer service fantastic. I highly recommend them.
2007 Toyota Rav 4
Mr John Ruiz was very attentive,nice, helpful and well informed.he is awesome . I greatly appreciated his help finding a used car for a great price.
Gmc yukon
Ed Adela is the person to deal with!! cant say enough!!! thanks ED
2007 impala
john was very awesome and a great guy made my first time buying a car as least painful as he could very nice clean car and a great group of guys working here. would recommend 10/10!
2014 Jeep Patriot
We can't thank everybody enough; everyone has always been so good to us every time we've been to Richardson. This is our second purchase with them because we trust them.
2015 Chrysler 200 S
My experience was perfect. They really know how to make you feel like you are apart of something much bigger than buying a car. They made sure my brother and I were in the loop about everything in the buying process. Thanks to Adela & John we didn't want to go to any other dealership to buy a car. They made us feel like we were at home and I couldn't have had a better experience.
Kia Sorento
My experience was excellent! John was a very good sales person and made me feel confident and very good about my decision buying this car!! Thank you all very happy with the KIA
2015 Chrysler Town & Country Lim-L
Thanks so much John for being great to work with! We appreciate how thorough you were, and no pressure! Great all around experience.
Mazda 3
I cannot say enough great things about the sales team at Richardson Sales and Service in Highland, IN. Very professional, gave me a great deal and what a wonderful team to work with. Looking forward to putting many miles on my Mazda 3! Thanks John Ruiz, Eddie and Gary! - Denise M.
2012 Yukon
Very happy with my vehicle!! Thank you Adela and everyone at Richardson Sales and Service!!
One Stop Shop
When we needed another car, Gary and crew "delivered"! Literally--to Florida. The car was exactly as described, priced right, and best of all, we love it. We have been doing business with Richardson's since 2004 and this is number 9 in our family. That says it all, plus the service can't be beat. Thanks everyone. Ron and Sharon
2010 Buick Lacross
Very happy with the service I received everything was explained in great detail had a great experience looking forward to driving my new Buick Lacrosse!! Thank you guys for everything...
2013 bucik encore
Very friendly Sales! Great deal at a great price.John was great with explaining all the feature and ed is a great manager. Thank you all for the help and new car we will definitely be back for more business!! Thank you again/
2012 GMC Sierra SLE
John and Eddie worked so hard for me, I purchased A GMC truck! THANKS GUYS! Very nice ride at a great price!! We will be doing much more business thank you guys
2014 GMC Sierra
The dealership was great!! Made a bad situation into a better situation we were in. Thank you guys it was great from start to finish!! I am so happy with my new truck thank all of you. John was very good and patient to get the deal worked out. Most salesmen out there just push and rush NO HIGH PRESSURE at Richardson. Great inventory at great prices.
2010 Gmc Acadia
Good service Good people Thanks Carlos
2015 Gmc Sierra
Friendly Service, Great selection.
2008 GMC Envoy Denali
My experience was great!! No high pressure sales!!Last dealer had experience with was not very good. John my sales men was wonderful answered all my questions pointed us to the right SUV we were looking for. Thank you John... Richardson Sales and Service is a great dealer with great inventory!! THANK YOU GUYS
2015 buick encore
I was very pleased with the service, the courtesy, and the product. I will let others know about the good quality service here.
2010 Challenger
Hi, I just wanted to say that the staff at Richardson, especially Adela, did a tremendous job helping me get my dream car. I drove off the lot with a 2010 Dodge Challenger that is absolutely beautiful and better than I could've ever imagined! Thanks again for everything. I've already recommended you all to one of my co-workers.
Buick Enclave
I found a great vehicle thanks to John.R and great rate thanks to Joe. Thank you guys you were Great!! We will be back soon and send customers your way.
2016 Chevy Impala
I had a great experience at Richardson Sales and Service,very friendly customer service, got the best deal possible on my vehicle, I could not be happier with my purchase. Thank you to everyone at Richardson for a great new car purchase, I would highly recommend to anyone to buy a car here. Jeremy Henderson
2011 GMC Terrain
Richardson has a great Staff!! Service was great had me in an out. I am very satisfied with my GMC Terrain.I highly recommend them for your next purchase. Great selection with great cars to chooses from. Thank you John it was great!!
2009 Yamaha YZF-R6
Bike is in excellent condition and looks great. They are more than willing to negotiate a price with you and get you the best deal. Staff are all very personable and here to help. Highly recommend.
Thank you!
I recently purchased a 2005 Mustang GT from Richardson Sales & Service and had to take a minute to share my experience. Adela and Ed are amazing! They were both professional, friendly, and honest, and went above and beyond for me. This was my first time financing a vehicle and the gentleman (Joe?!) who helped with finalizing the paperwork was so patient in answering my many questions. It was such a pleasant car-buying experience and I would highly, highly recommend them. Thank you so much to everyone at Richardson Sales & Service!!!
1978 Corvette
Came from Michigan, 4 hours away to pick up the car. After dealing with John over the phone and by email, I had a good feeling about this car and the transaction. John had everything ready to go for us, and made sure we were completely satisfied. Was a great experience. Thanks John!!!
2011 Ford F-150
The buying experience was great here at Richardson Sales and Service. Adela was very nice and helpful. If you are looking for a vehicle come and see Adela in Sales.
2007 Pontiac GXP
I came into the dealership about month before I purchased car and I liked the feel but wasn't ready to buy. Today 05/03/2017 I purchased. Great dealership to do business with.
2012 Chevy Cruz RS
My experience in working with this company was very enjoyable! The sales men John was very friendly and helpful in helping me find a vehicle. Absolutely awesome, will definitely be returning! THANK YOU GUYS!!
2015 Ford Fusion Hybrid
This is my 4th vehicle from here, Thanks to Ed and Gary for the amazing deal and for getting me approved, will keep this one for awhile now and definitely be back
2010 Acadia
This is the third time I've bought a vehicle from Adela my sales consultant. I come to Richardson because I always get great service and staff is always very friendly.
2013 Tucson
I want to thank everyone at Richardson Sales and Service. Adela my salesperson is awesome!!
2007 Honda Odyessey
Richardson was a very positive experience. The staff was great very helpful, found the right one I was looking for at a great price!! John. R was very professional and the sales manager had me in and out, no games with Richardson. Come check these guys out highly recommend them!
2008 CHEVY TRAIL BLAZER
THIS IS OUR 2ND VEHICLE WE HAVE BOUGHT FROM JOHN, FROM RICHARDSON. WE ARE ALWAYS PLEASED WITH THE SERVICE/SALES DEPARTMENT. WE DROVE 2 HOURS TO COME TO RICHARDSON FOR A GREAT DEAL!! JOHN WAS VERY HELP THANK YOU ALL!!!
2013 Buick Enclave
The Salesmen John was very helpful and knew his product!! We are very satisfied with the service we received at Richardson. We will definitely be sending Friends to buy more cars from Richardson. We have a very clean very nice S.U.V they gave us a great deal and we will be buying from here again.
2010 Mitsubishi Eclipse GT
Thank you guys so much!! I got a great deal on a great car!!! Joe and John were both great from start to end! Thank you Richardson we will be sending people your way to get their new car!!!
2001 GMC Yuokon Denali
Great customer service!! Highly recommend Richardson Sales as your next Purchase..Thank you guys. I will be back for more cars in the future.
2012 Acadia
Adela has helped our family through 3 vehicle purchases. we are very happy with Richardson Sales and Service.
Best serviceman around
Matt, provides the best auto service. Friendly, makes you have all your bases covered before you leave. Definitely will be back!!!!
2013 V-Star
This is our family second purchasing a motorcycle. Adela is a very helpful sales consultant. always very honest. Thanks again Richardson Team we look forward to doing business again!!
2014 GMC Sierra
Great Service from a well appreciated Army veteran John Ruiz!! No haggle No B.S Straight forward Great deal!! Would recommend coming back to see Richardson Team for your next buy Thanks guys have a great GMC Sierra!!
2011 Chevy Camaro RS
Richardson Sales and Services has given my family a great deal of respect/customer service. My brother and I have both purchased several vehicles from this company. We keep coming back and I would highly recommend anyone searching to come down to Richardson. I thank the sales rep. John Ruiz for helping find whats in my best interest. I'll definitely come back for more service! Thank you all again!!
2008 Victory Vision
Been in area about 15 years and Richardson has always stood out among others with a variety of great looking vehicles on display. It was time to upgrade my vehicle so I found their website and inquired about my choice. After being contacted by Joe and going for my first visit to see vehicle I was greeted by someone from an office like a friend while giving John information for purchase approval who turned out to be GARY Richardson. After being approved quickly by Joe I started to get cold feet about purchase because of past experience at dealerships. I got a call from Eddie who made me feel at ease through a no pressure conversation. On my second visit I had more time to view my choice and did not feel comfortable with it even though it looked great. I saw another vehicle and after viewing it i knew it was for me. Joe Hunt got new approval in minutes without any issues. Joe Hunt was extremely knowledgeable and professional at time of purchase. No hidden anything with all straight forward and clear on paper work. Got a chance to meet many there on two visits and even talk to Debbie in office after a phone call about question after purchase. I was always treated professionaly and friendly by all at Richardson. My experience start to finish was great and if I would have driven 300 miles it would have been the worthwhile. Not only am I extremely happy but I credit my choice and purchase on their no pressure and highly professional service. Richardson made a believer out of me that you can still purchase from a business with honesty and integrity. When it comes time for my next vehicle purchase I will look no further then Richardson. Thanks to all there and special thanks to Joe Hunt for an amazing job.
2007 Cadillac Esclade ESV
I appreciate the Service from Richardson Sales And Service treated me very well and sold me a great car at a great deal.Thank you all from the sales men John to the Financing much Appreciated Thanks again....
Can Am Spyder
I just picked up my used (175 miles) Can Am Spyder from my friends at Richardson. As usual everything went smooth. Adela took great care of us. She has sold me a few cars over the years. Every one was helpful. Carlos thanks for your help as well in her absence. Joe was a big help on the delivery with all the options on the bike. Thanks everyone. Go see these guys for your next bike or car. I have been doing business with them for over 20 years. Thanks again Boyd
Yamaha V-Star
The buying experience was great here at Richardson Suzuki. Joe was very nice and explained everything to us so that we can understand.
2011 Cadillac SRX
Mike and Wendy K. This is the 16th Vehicle we bought from Gary Richardson.
2008 Saturn SKY
Good Business!! John was a good salesmen!! Car is in great shape...Would recommend coming to see the Richardson team for your next car purchase!!
Mini Cooper
Nice experience, no pressure. Salesman John was friendly and helpful as well as the rest of the crew.I would recommend Richardson to anyone and ask for John!
Hummer
Great guys to work with.
Dennis Zasada
very good experience,nice car fair price.easy to get financing.will be a return customer.
Avalanche Purchased
Had an excellent time working with Joe. He came in on his day off to meet with me. I came in next day and purchased truck.Very fast and fair to deal with.Thank you!!!I came from 3.5 hrs away to see Avalanche.
Ford Escape
Every visit to Richardson's Sales and Service starts with a warm hello and typically ends with me picking up my car from service. This time, I was able to leave with a new car for the family. This staff, from Adela to Joe to Eddie, including the man himself, Gary... make the experience so comfortable and easy. Thanks again for the great service, it's why my whole family continues to patronize this establishment for over 20 years.
Mr. Sanders
Good experience, nice sales personnel, fast friendly service.
2011 Ford F-150
good place good sales people
2012 chager
salesman John Ruiz was really nice handle everything I asked him.Will recommend my friends an others here. Great Buy at a great price!! Come see Richardson for your next purchase...
Nice Vehicle
Adela is the best car sales person ever.

Cherolet Malibu
i was referred to Richardson by a friend i stopped in they where very friendly and professional answered all my questions. great customer service i will definitely refer my friends and family. bought the car i looked at on the spot.
Dawn Fredrikson
I decided to check them out through all of the online reviews that have given the thumbs up. I definitely would do business again with Richardson. Eddie and Carlos were great to work with.
2012 Cadillac Escalade ESV
One of the best dealer i been to in a long time, Eddie and Carlos are remarkable, thanks y'all for everything
KIA RIO
My experience here was great! Excellent customer service.John Ruiz was great from start to finish
1994 Dodge Ram 1500 SLT
Very happy quick courtesy service. Was given a great deal on the 1994 Dodge Ram 1500 SLT. Would Recommend Richardson to come buy your next car great Team to work with Thank Gary Richardson@!!!!
2005 Buick LeSabre
I had a great experience coming to Richardson Suzuki in Highland, IN. I look forward to doing so in the future again. Great sales team John was great along with ED and Joe to finish off the deal . Great team def recommend giving them a shot thank you guys!!!!
2015 Harley Street Glide
great time,great service, Amazing sales person!!
Mini Cooper
We had a great experience at Richardson. Found our car online and traveled from the other side of MI to pick her up! Thanks to Carlos and Joe for your responsiveness!
2007 Ford F-150
Amazing place came in saw a truck and Carlos was a great help, this was the perfect truck i was looking for. Thank you Ed for keeping the payments in our price range. Will definitely recommend this place to others.
2008 Ford F-150
I highly recommend Richardson Sales & Service. Purchased 3 Vehicles from Adela. She's the best!!
Toyota Venza
My experience with Richardson Sales has been awesome. I wanted a newer car with low mileage and and a low payment. I have been looking for a car for at least 3 months now. John Ruiz in sales got me into a Toyota with a great payment plan and low miles. I urge anyone who wants to deal with an honest good salesman, see John in Sales at Richardson Sales & Service in Highland Indiana.
Great Experience!
When our 2005 Durango broke down on Route 80, on our way from Iowa to Ohio, the folks at Richardson's were fantastic! They allowed us to hang out using their wifi for hours to arrange financing for the repair, let us use their fax, helped to arrange a rental car with their discount, and did a great job of repairing out transmission. Everyone there was kind and considerate, and I couldn't be more happy that we were sent there by our roadside assistance! Sharon Conant, Cedar Rapids, Iowa
07 Lexus
Thank you soo much Adela, you made this experience for me go smooth and effortless , no hassle just great service with a smile.Sending family and friends to you. Thanks again!!!
2011 buick
Wow! What an experience! What a great deal! Bought a car from Richardson's and John helped us. Not only was there no pressure, he was very helpful and knowledgeable about the vehicles. Was at many dealership and absolutely no one had what we were looking for. Then we went to Richardson's and there was the car and John! Besides the car, was very impressed with John himself. A very unassuming veteran who fought for our country. Go to Richardson's, look at their cars, and meet John. Sit at his desk and be amazed at the frame of awards displayed there and see what he did for us and our country. With deepest respect and admiration for John. Al and Linda
2011 Nissan
We bought many cars from Adela and have been happy with all. Thank you so much for your help and assistance Adela and Richardson. Will be back soon for a Truck!!
2010 Hummer H3T
Had a great experience at Richardson Sales & Service! Thank you Adela your Awesome.
Roger Brooks
Adela was extremely kind and helpful and not pressuring in any way. The vehicle was good but she was really our deciding factor in deciding to buy from Richardson instead of some of the other vehicles we looked at purchasing.
Grand Vitara
I would like to thank the sales people Adela Del Real and Carlos Alvarez and the rest of the gang that i spoke with in person and over the phone. They were all so very helpful in answering all my questions and more. I received such friendly service. They really know how to place the customer in the vehicle meant for them. Thank You All I wish you all the best in your future sales. Towina Nightingale
2012 Ford F-150
buying my truck from Adela was easy. the way it should be
2007 Hummer H3
John has gone above and beyond to make this deal happen!! He has been both professional and a good friend during this process! A shout~out to Ed also for all of his dedication to me throughout my time at the dealership! Thanks again!!!
Nissan Murano
I love my new Vehicle!! Thank you Adela and the rest of Richardson Team.
2008 Chrysler Sebring
John Ruiz the sales men helped us right away. He was Honest and explained everything about the car. The Richardson team was very helpful and easy to deal with. Would recommend buying a car from John Ruiz at Richardson they are AMAZING!! Also have great prices and great cars Thank you John we will be back in the future.
I could not be happier with the service I received here at Richardson Sales and Service. Everyone was courteous and professional. Carlos showed me what was available in my price range, I picked what I liked and we were able to work out a great deal. I will, without a doubt, recommend Richardson to all my friends and family.
Great service/Ford Mustang
Quick and easy. Very professional, fast,easy and honest people. -Stang Thielmann
2014 Ford Fusion
I love my new car! Excellent customer service. Adela is a wonder sales person and always has a smile. This is my second car purchased here and will come here in the future.
2012 Chrysler Town & Country
Thank you to Adela and Gary who took great care of us! Everyone was very nice and answered all of our questions. If you ever need a new or used car, we definitely recommend Richardson!
2013 Camaro SS
This is my Third vehicle from Richardson Sales and Service!!Thank you Adela and the rest Richardson team for taking care of us.
Justin Butler
Came here to get my second vehicle ever, turned out to be a lot less painless then originally thought. Thanks to Mr. Ruiz he was able to get me what I needed, in a timely manor.
great experience
First time buying from a dealer. Little hesitant from the stories you hear but, everyone was very approachable and answered all my questions I had. Went above and beyond explaining everything and I never felt pressured to buy. They'll also take care of you after you buy the car, the service department was great and very knowledgeable. Keep up the great work! Thanks, Joe!
Ford Fusion
I was in a scramble looking for a reliable car that wasn't over priced and I ran across a nice Ford Fusion at Richardson's Sales and Service. I gave them a call right before they closed and they took the time to run all my information and stayed late to ensure I was happy and ready to purchase the vehicle the next day. I went in and John my salesmen was awesome! He didn't pressure me into purchasing, he was extremely knowledgeable, and easy to work with. I ended up purchasing the Fusion and Joe got me a great deal with Tire and Rim coverage! Great place to purchase a vehicle, I will defiantly be back for future cars!
05 Pontiac
Very friendly and Adela made me feel right at home. #1 Sales Woman around.
Skyler who bought the Jeep
John was awesome!! He helped me get this awesome Jeep! Joe was great too!
2005 mini cooper
had a good experience. John really work with us to get us the price we were looking for. It was nice doing business with them. Thank you Kristi Hahn
2014 Ram truck
I purchased a 2014 Ram truck from Richardson's Sales in June. I was very specific in what I was looking for in this truck. We found it on the internet and after talking to the owner it sounded exactly what I wanted. We drove 4.5 hrs to Highland Indiana and were pleasantly surprised that the truck was everything described over the phone. Joe was our salesman and was very pleasant and knowledgeable. We were happy with the price. After arriving home I noticed that their was not a Dodge Ram manual in the truck. I called Richardson's and they said no problem and a manual arrived in the mail in a couple of days from eBay and no cost to us. My only problem is that they are 4.5 hrs from us....which by the way was still well worth the trip! Would highly recommend you! Jeff and Connie
2015 Impala
We had a very pleasant experience at Richardson. Our salesman John Ruiz was very easy to talk to...very helpful on any questions we had. We didn't feel pressured while looking at the car. We will recommend Richardson to our friends and family!
GMC Acadia
Great experience. Great staff. Super fast. Jon was great salesman and Ed was quick at the paperwork.
Honda Civic
I recently purchased my Honda from Richardson Sales & Service. My saleswoman Adela was wonderful. I will definitely be back when I need another vehicle and will send friends and family. Johnathan Rosillo
Highly recommend!
This is the first time purchasing a car on my own and these guys made it a very smooth transition. They were honest and able to work a deal with me. I definitely recommend coming here. They are nice, respectful and know their stuff!
2008 CHRYSLER ASPEN
I had a great car buying experience with them. Thanks John and the rest of the Richardson's team for taking care of me. I Love my truck.
Sarah Eskridge
Excellent customer service. Had the vehicle ready to test when I got there. Helped out greatly with keeping kids entertained and happy while all paperwork was being completed. Will absolutely be back next time we are in the market for another vehicle.
2007 chevy cobalt
john Ruiz was awesome!
03 Envoy
Adela Del Real is simply the best! If you ever come to Richardson auto lot, make sure you ask for ADELA
2014 Dodge Charger SXT..Orange
My BUYING EXPERIENCE WAS NICE,FAST,AND A SMOOTH TRANSACTION.THE TEAM THERE ACCOMMODATED MY REQUESTS AS GOOD THEY COULD AND PRICE ON BOTH OUR CARS WERE MET TO MUTUAL AGREEMENTS.TEAM WAS VERY NICE AND EASY TO WORK WITH. Definitely would recommend Richardson Sales team for your next purchase!! They also have a great service department that answered all questions and sold a solid Dodge Charger Thank you all!!!!
Dan H
great service very happy will come back and thanks to john Ruiz
2010 Mustang Gt
Albert did a great job, very easy to get financed and the best thing it was a credit union that offered nice incentives.
dodge avenger 2014
they went over everything no hidden charges. they treat you good and give you a great car for a great price
99 Lincoln
Adela , the salesperson, was very friendly and helpful. I would recommend her to all of my friends! Sue Jacobs
Cornelia
Saw a vehicle on-line and just stopped by to see what they would tell me. 2 hours later I have a new car!!! My salesman, John is the BEST. Thanks to Ed and Joe as well. This was the best car shopping/buying experience ever!!!
03 dakota rt
good experience got me in a vehicle i have been looking at for a while now. jon ruiz helped me get in the truck i wanted and i couldn't be happier.
2010 Chrysler 300C Hemi
My husband was looking for cars online and he came across a 2010 Chrysler 300C that he liked. I called and spoke to John Ruiz. I told him what I wanted to pay for a car and that I lived 1 1/2 hours away. So I didn't want my trip to be a waste of time, he assured me that it wouldn't. from the time we arrived he was pleasant, professional and he knew a lot about the car. He wasn't pushy and that was one of the things that I liked most. He treated us with respect from start to finish. If ever in the area again looking for a car I will differently visit again. It was also my 11 year old daughter birthday and Ed made sure he had a her stuff animal( she was happy). This is the type of customer service that went over and beyond. Thank you! Angela & James
Salesman Joe Hunt was very knowledgeable and helpful in my purchasing a used car.
2011 Fusion
Everybody here at Richardson was very helpful and nice. Adela was very helpful with the process of finding me a car. She helped a lot. Also Ed was very cooperative with everything. Overall, my experience was great, especially with this being my first car. Great place with great people.
Indian Roadmaster
Drove up from TN to pick up an Indian Roadmaster. The bike was everything I was told it was and I couldn't be happier with the bike and the service. My salesman, Joe, and the owner, Gary, went above and beyond to make sure I was getting what I expected. Thanks guys!
This was our 2nd. purchase from this dealer the first being an 01 Grand Vitara, and now a 2015 Patriot, the only thing that changed was the salesman John Ruiz, this is still a top notch dealership with exceptional employees.
06 Hummer
just bought o6 hummer from Adela great sales person very helpful made shopping easy very friendly THANK YOU SO MUCH.
2009 altima
Had a great experience, everyone was easy to get along with. Sales consultant, john Ruiz was great explaining about different car details. Couldn't be any more satisfied with the purchase. Everything went very well.
We drove 4 1/2 hours from Southern Illinois to look at our 2013 Volkswagen Beetle Bug. We worked with John Ruiz, Jr. and he is absolute doll and described the car exactly. We bought it on the spot and financing was so easy. We are so pleased and give the whole Richardson Sales & Service staff a 100+ rating!!!!!
2013 Ford Fusion
My husband and I both have cars from Richardson. It's great to go somewhere where they really care about what the customer wants and do their best to help their customer! We wouldn't go anywhere else!
Alexander Hamilton
I like the dealership, they helped me find a car good for me and something that i would love to drive at a reasonable price.
04 Dodge Dakota
I had a great experience with the staff here at Richardson. I had Adela as a sales consultant. she was very kind.
I had never even heard of Richardson Motors before I came to check into a car I had seen on sale there. I was very pleasantly surprised by the friendliness and professionalism of John and Eddie. They made this the easiest car purchase I have ever experienced. I would absolutely recommend working with them for their excellent customer service.
Happy Daughters 1st car buy
Not a fan of the whole "car buying experiance". However, Joe has made our experiance very painfree. Great guy to do business with!!!
Had a great experience buying a new vehicle from Richardson. Sales staff was very pleasant and knowledgeable. Got a great price on a very nice van. Would buy again. Thanks Richardson!
07 Buick Luceren
I had a great experience at Richardson Thank you for all the help. Would recommend you give them a chance great salesmen John Ruiz and Ed the Sales Manager was helpful and understanding. Thank you again for the great car we will be back in the future for other cars and will definitely send friends and family to Richardson.
John was very helpful.
I came in after totaling my car, looking for a replacement.Right away John did everything he could to get me in the car I wanted, set me up with a great warranty for a good price, and even offered to pick me to make sure I could make it in to get the car. I am extremely satisfied with my experience and will be recommending John to others. Thank you Richardson Team!!!
gmc canyon
great experience never been so satisfied and treated with so much respect ever before
2011 dodge caliber
HI,MY NAME IS LINDA,I CAME TO RICHARDSON SALES AND SERVICE LOOKING FOR THE RIGHT CAR.GUESS WHAT I FOUND IT,THANKS TO THE EXPERTISE WORK OF A SALES PERSON NAME ADELA,SHE WAS MORE THAN HELPFUL SHE DIDNT MAKE ME FEEL THAT SHE WAS JUST TRYING TO MAKE A SALE. I RECEIVED A CALL THE NEXT DAY AND RECEIVED MY BRAND NEW CAR. THANK YOU SO MUCH MS. ADELA
2013 Toyota Rav4
This is the second time I've bought a car from Richardson. I come here because I know I can get a great car, great deal, and great service. Staff is always friendly and very helpful.
Excellent!
Coming into the lot the staff was incredibly friendly and approachable. The whole car buying process was a breeze. John and Eddie were beyond helpful and answered any question that we had. Highly recommend!!!
2010 Buick Lacrosse
Awesome car buying experience! Great people, very helpful, Ed was awesome!Adela was friendly with a nice sense of humor!John was very quick and helpful as well!! I'll be back for sure.
Very happy with my purchase
I bought an 07 Explorer when I told the salesman what I was looking for he knew exactly what to show me and I fell in love with it instantly. John Ruiz was very professional and patient throughout the entire process. would definitely recommend Richardson Suzuki to anyone looking to purchase a vehicle. Very satisfied!!!!
2010 Mercury
Adela was so helpful and easy to work with!we hesitated at first but she made us comfortable and we will be letting others know about your dealership !
2003 dodge durango
I walked in the door and everyone was nice all there cars are beautiful the sales guy John Ruiz was very nice thanks Richardson Sales Team.
2013 Challenger
Adela just sold us this beautiful car!
2006b Suzuki Grand Vitara
John Ruiz my sales consultant and the whole family at Richardson Sales and Service from John to the Owner Mr. Richardson are trusted people and very fair. They gave me great trade-in value for my vehicle and a great price on the vehicle I purchased. I will be back for my next one and recommend seeing John Ruiz if you're looking for a quality vehicle or motor cycle. Thank you Richardson Family!!
2014 Charger
I am very satisfied with the services I received today. Adela the sales consultant was nice and provided detailed information over the phone and in person that helped me in concluding a purchase. Ed the manager was friendly and kind with a nice sense of humor. I would recommend this dealership to anyone and I would come back for more business.
2006 dodge cummins
Great service, very friendly people and not pushy. If you are looking for a vehicle, they can help you out!
09 Cadillac DTS
We are so Happy with the Great Services John Ruiz provided in are search for a dependable vehicle!! Joe the business guy was also great and helpful!!We will be letting our family & friends know about the wonderful services!! Thanks Guys!!
Che'ree is one happy customer
I want to Thank everyone at Richardson Motors starting with my Sales guy John, he is outstanding,patient, honest and knowledgeable, which is quite refreshing. Also he works hard to get you the best deal, make sure you ask for him when you visit. Sales Mgr Ed (whom I renamed as Steve, don't ask why) LOL..is awesome and John makes finalizing your paperwork easy and stress free. And they have a beautiful sales woman on their team, Adele. The Richardson team was very welcoming, hilariously funny,and they make you feel at home, what more can you ask for... Thank you so much for a wonderful experience. Che'ree L. Blades, proud Cadillac SRX Owner
2012 Honda Civic
Adela has helped our family through 4 car purchases. This particular car was my first car purchase through a dealership. She has always been kind and extremely helpful. It did not feel like a sale but a friend guiding us through another milestone in life. We are very happy and appreciative of her help.
06 Cobalt
if i had to get another car from anyone i would gladly pick Adela to help me again very friendly and told us everything we asked and need to know. she was fantastic!!
2003 GMC Yukon SLT
We found Richardson Sales & Service to be very easy to work with. We appreciate the quick call back regarding our inquiry. It was easy to find your location. John was good to work with and friendly and helpful. Joe was clear on explaining the paper work. We feel this was a good experience. Thank you!
2010 nissan altima
john ruiz was very helpful thank you all for a deal well done i well be back
Chevy Cruze
Richardson is by far the most helpful and friendliest places to shop for a car. They completely understand and care about your needs! Because of them (John Ruiz & Team) I was able to purchase the car of my dreams! Thank you!
2012 jeep Grand Cherokee
The whole time from the first call to the first time I hit the Lot, Staff was friendly and good to work with. John Ruiz was my Sales Person and was very helpful and friendly, I will recomend this dealership to anyone. Thank You for the SUV.
steve... Toyota Tocama
will be back to buy from again nice people john ruiz was great.
Service Above and Beyond
On Friday (9/18/15) I had a flat tire and called the dealership to get a name of a towing company to come and change my flat. The nice man I spoke with, his name was John, came and met me at the Hammond Train Station and changed the tire for me, in the pouring rain, out of the goodness of his heart. He does not know how special that was to me for him to come out and do this. I have been a customer for many years and the treatment that I receive starting with the owner, Gary, and staff, has been nothing but helpful and kind. I would highly recommend for anyone to check out their automobiles for sale or go there to service your own cars. Thank you. Rita D'arcy
This was our first time here at Richardson's. Stopped in to look at bikes and John Ruiz was great to work with! He was very friendly, helpful and was a pleasure to deal with. We would definitely come back again if looking for another bike.
john kreis gmc sierra
sales people are extremely nice and helpful. got me in and out in no time.i highly recommend them.
Michelle purchased GMC Acadia
There are no games played at this dealership! Gary Richardson is upfront and honest. My dad dealt with him for many years and now my husband and I have become regular customers purchasing for ourselves and our five kids. John Ruiz is our salesperson. He is a veteran and an extremely hard worker and very knowledgeable. We have also dealt with Leon Ruiz and he is a great salesperson as well. Thank you for everything!!
2012 Dodge Journey
Me and my husband bought this awesome car at Richardson Suzuki. This is the second car we purchase from them. My experience with Adela is extremely amazing she is such a great sales person. Adela takes her time and explains all that is needed and goes that extra mile. As a customer I recommend this dealership not only the cars are great but the staff have great customer. service. Adela take you so much for all your help and assistance.
2014 impala Limited
My experience shopping for a car at Richardson sales & service was very pleasant. good vehicles and great prices ! Adela was a wonderful sales woman!! Martha Flores
2011 buick lacrosse
Everyone was very helpful and awesome customer service!!! My second time purchasing a car from Richardson and we look forward to doing future business again! Thank you for everything.
09 super glide
purchased a 09 super glide from john Ruiz at Richardson power sports and the experience was fantastic and very painless john was very knowledgeable about all the bikes in stock and made it a very easy decision to buy. i would definitely recommend to anyone looking to buy to stop and see john..
Angela Monahan
John Ruiz was fantastic!! So nice and not pushy at all, thank you for taking your time and staying over with my family and I. Thank you Joe for helping us and getting all done so fast!! You are an amazing team. Customer care is definitely the best!!
2010 suzuki GV
Had a great experience at Richardson! Adela, our saleswoman, was awesome. Very personable, knowledgeable, and always smiling. Gary, the owner and Ed, the sales manager were very helpful. Lots of vehicle choices, all in very good condition. We had a very pleasant buying experience, and would recommend Richardson to our family and friends!
2012 Nissan Sentra
I was very happy with my experience at Richardson sales & service. The staff was very friendly, helpful, and knowledgeable. My personal experience with Adela was amazing as she helped me find the vehicle that was right for me and my budget. I will recommend friends and family here in the future. Adrian Eloisa
rocio padilla
Had a great experience as soon as I walked in, was helped right away haven't experienced that in any dealership that I have been to by far!
2011 Chevy Silverado LT
Great service and great people. Loved working with the Richardson team. they made everything very fast and easy! Thank you! -Nick Mahoney -Jennifer Kemling
Kristine VanCleef
John Ruiz was very helpful and considerate. Everyone associated with our purchase was kind and helpful. I appreciate that you all did whatever you could to make this purchase possible.
satisfied beyond belief
Leon was amazing and all the rest of the associates were very patient with me and they helped me find just the right car! and worked with me in this difficult, painfully long process,I will be sure to send more customers their way!
2013 Mitsubishi
The buying experience was excellent!! Thank you Richardson Sales & Service
A 100% Satisfied Customer
I always took my previous car to Richardson. Jay and his crew always took care of my needs in a professional manner. I feel assured that they provide me with the services that need work and attention. They certainly did not take advantage of an 85 year old lady---like my previous mechanics did. They always started service on my car at the appointed time. My car always looked better than it did before I had the service performed. The car was always spotless and clean. Since I purchased my new car on April 16, 2015. I made frequent visits to get help with some of the things I was unable to do myself. Leon Jay and the crew solved these problems and never made me feel inadequate. Special thanks to Leon, my super salesman. He made sure I bought a great car. Florence Liss
2011 Durango Citadel
NO PRESSURE DEALERSHIP! Was able to car in peace. Then when we were ready to look more we were greeted inside by John who was friendly and very helpful. Again zero pressure, friendliness and answered all our questions. very knowledgeable about our vehicle as it had a lot of features. Go to place for sure. Kirk
I had a great experience at Richardson Sales & Service. Everyone is very friendly and helpfull. This was the first time buying a car from a dealership they made it so easy and explained everything to me. I would recommend them to anyone looking to get a great and dependable deal. They have a customer for life.
2014 JEEP LATITUDE
John Ruiz was very helpful and made my first car buying experience a breeze. Couldn't have felt more comfortable and his Manager was also a man who knew his business well. Thanks for getting me into the car I've always wanted for a price I could afford! -Happy Customer Thanks again and best regards, Matt
happy customer!
We experienced great service and they worked with us to get us what we wanted!!
Mike Castellano
Although hunting for a vehicle can be inconvenient for some, me in particular, the vehicle that I bagged from Richardson was worth the hunt. No pushy or arrogant sales staff like at other nearby dealerships. Young Mr. Ruiz, my salesperson, was patient and courteous at all times as was the rest of the staff. I am proud to have purchased from a veteran that has toured Afghanistan and from an establishment that "hires the vet". When I find myself needing to hunt for another vehicle I'll go where the hunting is good, Richardson. Give these guys a shot.
Third time is a charm!!
John Ruiz knew exactly what I wanted the second I stepped on the lot! He was so helpful and patient. I think Richardson is the best place to buy a car. This is the third one I have bought from there and have no regrets! You buy a good quality car at a great price from friendly people and leave with a piece of mind, every time!
The only dealer you need
Ten vehicles in the family serviced and six replacement vehicles purchased at Richardson's in recent years pretty much explains how our family feels about doing business here. Fair pricing, vehicle selection, great service, fixed right the first time, and just dealing with honest and friendly people makes this the right place to do business. Thanks folks. You "walk the walk". Medek, Katilavas, and Rice families.
The buying experience was just perfect. I was a little tentative to drive over 300 miles to see the Kia Soul but it was well worth it! The car was as described and Eddie was great to work with. Joe had the paperwork done and we were in and out in no time. My wife absolutely loves it! Ken M. St. Louis, MO.
I bought my daughter a 2009 G6 from Leon he is a great guy to do business with. Adela delivered the car and she is a very beautiful and professional woman
07 Chevy Silverado
This past December we purchased an 07 Chevy Silverado from Richardson Motors. It was by far the best vehicle buying experience we have ever had. The salesman was very nice and informative. The entire staff worked with our budget to help us find the right vehicle to fit our need. We love our new truck and it has been a great asset to our family!
2003 Ford Thunderbird
My experience with Richardson was terrific from my first email until I drove my car off the lot. I had been watching the 2003 Thunderbird for a few months and when the winter finally broke last Saturday I went to test drive the car. Joe Hudson the young man who had answered my initial email took me for the drive and was totally competent in explaining the car and it's workings I really wanted the car so he had no chance to pressure me like typical car sellers but he did not seem like that kind of person anyway. Usually, I leave a car dealer feeling either angry at being treated like a buffoon or guilty because I really didn't want the car but felt sorry for the dealer. This experience was entirely adult, professional, and easy. Charles Niblick
Adela, is a beautiful lady an great car saleswomen!!!
A great big shout out to Adel my husband and I went to look for a car and we found exactly what we were looking for we eye in and out in 2 hours the service we received was great.

Dawn Koepl
I found my Dream Car!
I found the car I have really, really wanted at Richardson Sales, and after a quick process it was mine thanks to the help of John Ruiz. He took the time to show me the features of the car on our test drive the night before and then came in again the next morning at 8:30am to meet my husband and I to complete our trade in and credit process so I could purchase my dodge! He was really great to work with, from making us coffee, to letting me use his computer to set up the insurance and for other paperwork issues. I have nothing but good things to say about John's customer service and dedication. Thank you JOHN for making this purchase as smooth and enjoyable as possible! Sincerely, Monica Morales :)
Richardson's is the best!
I have never been so thankful for a business in my life. My car broke down on a Sunday and I called Richardson's right away and by Friday I'm driving my new car home. I explained my situation both financially and my need for a car. They couldn't have been more helpful. They set me up with a very nice, reliable car which fit my style and was affordable. In all honesty, I've never been to a business in my life where ever single person was genuinely nice and willing to help. My first car buying experience was painless. If you're looking for a car, this is definitely the place to buy one. You will not be disappointed. Thank you everyone at Richardson's Suzuki for your hospitality and going above and beyond what I thought was possible!
Mike"s New Toy
We couldn"t be more happy with our new car! We have bought many cars from Richardson's and have been happy with all. The sales personnel and service department are all very caring and helpful! Richardson's is a great dealership to work with! Thank You Mike and Wendy Kozy
Worth The Drive!
I highly recommend these folks. Purchased a motorcycle from them. The bike was a great deal and they are easy to work with. Smooth and painless transaction! Would definitely do business with them again. Jeff S. Peoria, IL
May 2014
What can I say? A great team makes a great experience. From start to finish; everyone who worked on our loan was straight forward and courteous. No smoke. No mirrors. Just a fantastic group of everyday kinda people trying to make a living by helping others with reliable vehicles. A special THANK YOU to our sales person John Ruiz. A motivated, honest young man who wears his heart on his sleeves for all to see. I feel blessed to be part of the Richardson family. Thanks again everyone! Tom Blahnik
Couldn't be happier
I searched for months looking for the perfect motorcycle for me and when I found it, it was located at Richardson Sales and Service. Unfortunate for me, they are located over 4 hours away from where I live. After speaking with Joe over the phone, I decided I had to take the trip to see this bike and meet with one of the most friendliest sales persons I have ever dealt with. The entire staff at Richardson can't be beat! Gary, Joe, Ed, Leon and Adela are amazing. Each of them spoke with me in a manner that made me feel like we were old friends. They each went out of their way to make my buying experience pain free. If you are ready to buy a vehicle of any kind, you can't do any better than Richardson Sales and Service, no matter how far away you are located from them. Next time I am in the market for a vehicle, this will be the very first place I look! Thanks Joe and Gary for the perfect deal! Your Friend and loyal customer, Tim Gentry P.S.... Adela, you were right. Your coffee is the best in the world!!!! LOL
Thank You !
To Richardson Sales & Service Team: •Gary Richardson •Ed Widlowski •Joe Hunt •Leon Ruiz I wanted to write you a short note to thank you for your excellent service and true professionalism with respect to the overall purchase of my dream car SAAB. The SAAB is an absolutely awesome, luxury car and it is my 4-th car I have bought from Richardson. I was very pleased in doing this transaction with you and will definitely recommend you to family, friends and potential clients. It was nice doing business with you and thank you for giving me the opportunity to own such a beautiful car! Thank you Garry & Team for making me feel like a celebrity. With my very best wishes, -Maria G.
customer
me and my husband purchase my dream car at richardson suzuki. i had other dealers looking for the same car but richardson is where i found it and i am so glad i did. my sales person Adela Dereal was simply the best and a great asset to richardson. i came back three times before i made my purchase and it wasen't all because of the car. it was the customer service and not feeling pressured is what brought us back. i will always be a forever customer.also hats off to eddie, joe and mr. richardson who made a point in greeting us personally. Denise Strickland
Dodge pick up
Just purchased a truck from this dealership great service, made everything quick and easy.
Oldsmobile Bravada
Adela worked very hard to help me get into a car i like and fit into my price range. This is the second car I have gotten at Richardson Suzuki and I'm very happy with the service.
I hadn't planned on purchasing today but after the test drive I was pretty much sold. The service received from Adela Del Real was fantastic and that made the decision to buy that much easier. The staff here is excellent. When the time comes for my husband to buy we'll definitely be back here!
Adela was really great to work with. She helped my husband and I purchase our beautiful truck. It was a great experience. I am so happy that my husband and I choose Richardson Sales and Service.
My name is Udell Boler and,I purchased a vehicle from Richardson Suzuki,in Highland Indiana,9110 S. Indianapolis Blvd. The sales representative named Adela was the best salesperson that I have ever dealt with,she is nice and courteous and makes me feel almost like family,also Joe the finance manager is very courteous also. UDELL BOLER
This is our families second time purchasing a car. During the process the staff here has always been very cooperating as well as satisfying in the way that they deal with us as customers. Mrs. Adela del Real is a very helpful consultant; always honest and befitting to our needs. Once again she has helped our family get a new vehicle and I have to say she has done it again. I love my new car it fits me fairly well. Thanks again and we look forward to doing business again very soon!!! -Shameka Miller


Dear Gary,

Between Matts long work days, Two little kids and a third pregnancy , we never would have had the energy to search for such a great van. Thank you for listening to our needs and fulfilling them with the perfect family car. Love,

Matt & Jordan
They really DO care!
Recently my husband's trusty car needed to be put out to pasture. I found a car on the Richardson site that was perfect for our family. With a phone call and a few minutes on the financing site we were ready to go! Two days later we were at the dealership test driving the car--it was immaculate and we were sold! Joe and Gary made the entire car buying process easy and most importantly painless! A few weeks later we still love our purchase, and when it comes time for another new car we will be heading back to see the folks at Richardson.
No Pressure
Finally a sales staff that isn't high pressure. We got to look in peace and were treated very well. We bought at Richardson because we got a very fair deal on a great truck. Everyone was very helpful and not pushy!

Carlos Santillan
Tim Denno
The service was outstanding. The staff really showed genuine concern for my families needs and helped us find just the right car!
I'm very happy with Richardson Sales and Service. Thank you Adela for your help!!!
TRUST STILL THERE
It has been many years I have purchased a car, but in my recent attempt to by a car at another dealership it reminded me of why I Value Richardson. I thought I could trust another dealership down the road a ways. (out of respect I will not name) Only reason I went there is its where I ended up due to unforeseen circumstances after I no longer had my car I had gotten from Gary Richardson. I had given Garry a much harder time then he deserved due to a factory issue on a car but he stuck with me all the way and did all he could. I now after dealing with the flat out lies from another place see the best car dealership had was Garry Richardson. Sorry Garry for the Past history, thanks for truly being a man and dealership of your word and doing all you could at the time. I have decided to keep my current vehicle after voiding the deal after I found all the lies from the other place. When I am ready for a car I will be seeing you. I trust I will still receive the same outstanding caring service. And I know your service guys are still outstanding! Funny how the circle goes round and you see what you had! If you seek a dealer you can trust....go see Garry Richardson and tell him Rose F. sent you!
Shirley Payne
I would like to thank the entire staff at Richardson Sales & Service for selling me my car, especially to Salesman Leon Ruiz for outstanding salesmanship. Richardson is a great place to purchase an automobile. The entire staff is very professional. I have dealt with dealers who often try to sell you any car, yet, with Richardson, they try to get you the car that best suits your financial needs as well as personal preference. I would highly recommend Richardson Sales & Service. Please see Leon Ruiz saleman to help you get the perfect car you need.
Ford Fusion
We just arrived home from the Richardson Dealership. The people who are responsible for this dealership, from the owner to the sales person, especially the Sales Manager and Financial Manager (Russell Howard) ,are nothing short of awesome. They were understanding of our credit position and created a purchasing contract which made it possible for my fiancee, Karrie Robinson, to purchase a 2011 Ford Fusion SE for the same monthly payment that would have possibly allowed us to purchase, at best, a 2000 to 2002 vehicle elsewhere with a much higher interest penalty. This contract included a 3-year full car warranty and gap insurance to protect us in case of a serious accident. The interest rate was incredible. In all, this is probably the best experience I have ever had at any dealership, even at the one where I purchased and paid for, on time, 6 different vehicles. I thank the good Lord for putting all of us in contact. KEEP UP THE GOOD WORK!!!!

Thanks to everyone!

Ken Burcaw
98 Harley
Joe; I would like to thank you and your fellow sales people at Richardson Suzuki for a very good sales experience. I was really impressed with your willingness to work with me, especially coming out to my home in inclement weather for the trade-in appraisal. In all the years of purchasing vehicles, I have to say this was the best experience that I have ever encountered. I will definitely recommend you to my family & friends looking for a vehicle. Keep up the good work!
Tim Brozowski